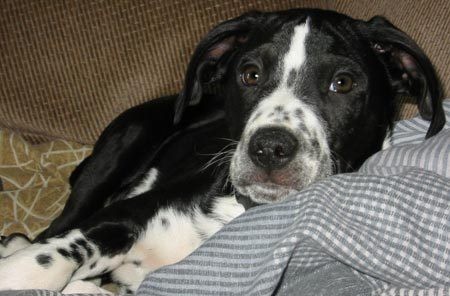 ---
The Border Collie Dalmatian Mix, is a mixed breed dog resulting from breeding the Border Collie and the Dalmatian. Both of these dogs have very sweet personalities and will probably have a moderate energy level. It can obviously be an aggressive dog, but if properly socialized this shouldn't be any problem at all. What does this mixed breed look and act like? Is it more like the Border Collie or the Dalmatian? Those are the questions we will try and answer below. Continue reading below to see pictures, videos, and learn more about the beautiful Border Collie Dalmatian Mix.
While we really recommend that you acquire all animals through a rescue, we understand that some people might go through a breeder to get their Border Collie Dalmatian Mix puppy. That is, if they have any Border Collie Dalmatian Mix puppies for sale.
If you are interested in helping animal rescues raise money, please play our quiz. Each correct answer donates to help feed shelter animals.
---
Here are some pictures of the Border Collie Dalmatian Mix
---
---
Border Collie Dalmatian Mix History
All hybrid or designer dogs are tough to get a good read on as there isn't much history to them. Breeding specific dogs like this has become common in the last twenty years or so even though I am sure that this mixed breed found it's share of dogs to the shelter due to accidental breeding. We will take a closer look at the history of both parent breeds below. If you are looking at breeders for new, designer dogs please beware of Puppy Mills. These are places that mass produce puppies, specifically for profit and don't care at all about the dogs. If you have a few minutes, please sign our petition to stop puppy mills.

Dalmatian History:

The first illustrations of the dog have been found in Croatia in the 1600's. Like nearly every dog breed, they were used as dogs of war, to help hunt, and to protect the villages and houses. To this day, the breed retains a high guarding instinct; although friendly and loyal to those the dog knows and trusts. They have a strong hunting instinct and have been used as an excellent exterminator of rats and vermin and bird dogs among other things. You can't talk about Dalmatians without talking about their role working for the firefighters for their role as firefighting apparatus escorts and firehouse mascots. It is thought they became so compatible with firehouses since they and horses are very compatible. the dogs were easily trained to run in front of the carriages to help clear a path and quickly guide the horses and firefighters to the fires. They are also pretty good watchdogs and were used to help protect the firehouse from would be thieves stealing strong, steady horses.

Border Collie History:

The Border Collie was bred to gather and control sheep in the hilly border country between Scotland and England. He is known for his intense stare, or "eye," with which he controls his flock. He's a dog with unlimited energy, stamina, and working drive, all of which make him a premier herding dog; he's still used today to herd sheep on farms and ranches around the world. They were bred to literally run 15-20 miles a day for days on end all while moving sheep. They were also bred to withstand harsh weather. You might want to keep this in mind when you are looking for a companion and if you have the stamina to keep up with them.
---
Border Collie Dalmatian Mix Size and Weight
Border Collie
Height: 19 - 22 inches at the shoulder
Weight: 30 - 50 lb.
Lifespan: 10-17 years
Dalmatian
Height: 22 - 24 inches at the shoulder
Weight: 35 - 70 lb.
Lifespan: 10 - 13 years
---
Border Collie Dalmatian Mix Personality
This is going to be a very sweet and good natured dog. They will be a great companion and devoted to the family all the way. This is the type of dog that you are going to want to come home to at night as they are very kind, loyal, and gentle. Both the Dalmatian and the Border Collie are meant to go very long distances all day long, very quickly. The Dalmatian was bred to work and the Collie to herd. They are going to be bouncing with energy and will not be good for apartment dwellers. In fact, they won't be good for low energy people. They are going to need to go for very long walks and hikes EVERY DAY to wear them out. If you don't control their energy it will control you. It is also extremely important to socialize your dog. While they naturally have a very nice temperament, socialization is extremely important to help them learn how to interact with other dogs. They also might have a rather high prey drive due to their wanting to chase small, fast things. It will be a good idea to keep an eye on the cat or any other small creatures until you better understand their personality.
---
Border Collie Dalmatian Mix Health
All dogs have the potential to develop genetic health problems as all breeds are susceptible to some things more than others. However, the one positive thing about getting a puppy is that you can avoid this as much as possible. A breeder should absolutely offer a health guarantee on puppies. If they won't do this, then look no more and don't consider that breeder at all. A reputable breeder will be honest and open about health problems in the breed and the incidence with which they occur. Health clearances prove that a dog has been tested for and cleared of a particular condition.
The Dalmatian mixed with the Border Collie might be prone to Eye problems, hip dysplasia, skin problems, tail problems.
Note that these are just common problems in both breeds.
---
Border Collie Dalmatian Mix Care
What are the grooming requirements?
These guys could be moderate shedders. The Border Collie is a long haired dog that will "blow" its coat a couple of times a year. The Dalmatian is not necessarily a heavy shedder. They will of course still need brushed, they just won't be as intense as others. Give them baths as needed, but not so much that you dry out their skin.
What are the exercise requirements?
This is a high energy dog that will need that from an owner. Both parent breeds are working dogs that are bred to run and retrieve all day. Plan on taking them for extremely long walks and hikes to keep their energy level down. Don't be surprised if it starts to herd you as the Border Collie has a very strong herding instinct. A tired dog is a good dog though. Never tie your dog up outside - that is inhumane and not fair to him.
What are the training requirements?
This is an extremely intelligent dog that will be easy to train, however, it might be extremely stubborn. It will need a strong, firm handler that is consistent and won't let this dog take advantage of them. All dogs respond best to positive reinforcement. So make sure to praise her when she does well. She is an intelligent dog who loves to please, and loves a physical challenge. The more exercise she gets the easier she will be to train. Proper socialization is imperative to all dogs and puppies. Make sure to take her to the park and doggy day care to get her around as many people and dogs as possible.
---
Border Collie Dalmatian Mix Feeding
A lot of times diet is done on a per-dog basis. Each one is unique and has different dietary requirements. Most dogs in the U.S. are overweight. A mix like this one that is prone to hip and elbow dysplasia should really be on fish oil and glucosamine and chondroitin supplements as soon as possible.
Overfeeding any dog is not a good idea as that can really exacerbate health problems such as elbow and hip dysplasia.
I good diet to look into is Raw Food Diet. A raw food diet will be especially good for the Wolf background.
---
Links to other breeds you might be interested in