The Boston is a versatile dog who is as comfortable performing moderate physical activities as he is in acting as a companion to a child or a senior citizen. He is energetic and intelligent, performing well in obedience, agility, and as a therapy dog.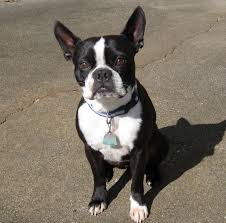 Boston Terrier clubs say the fact that Boston's enjoyment of human time and affection makes them good family dogs. They are sociable and will suffer if kept outdoors away from human contact. They also require obedience training as early in life as possible.
Celebrities Ben Stiller, Christy Turlington, Norman Reedus, Jake Gyllenhall, and the late Robin Williams all have had Boston Terriers in their lives. A Boston Terrier named Rhett is the mascot of Boston University, and one named Blitz serves as mascot for Wofford College in Spartanburg, SC.
---
---
History
All Boston Terriers have as a common ancestor a one-of-a-kind Boston dog, named Hooper's Judge for his owner. There are two possibilities as to Judge's lineage. Either he is directly related to the original Bull and Terrier breeds of the 19th and early 20th centuries, or he is the outcome of of modern English Bulldogs being crossed into terriers created in the 1860s for show purposes, like the White English Terrier.
The breed caught on, and in 1891 its supporters had named it the Boston Terrier to eliminate any confusion with British bulldogs. The AKC accepted the Boston as a distinct breed in 1893; he was the first American dog to be so honored. Today, the breed standard includes the distinctive black-and-white coloring and markings along with size and head shape as judging criteria.
---
Pictures